What to wear for Easter 2019
APRIL 1, 2019 |
Easter is the time of year when everyone is celebrating and enjoying. The best part is women, men and children gather in their best dresses to eat, participate in colorful egg hunts and celebrate together. Easter is fun, full of food and joys.  
Planning what to wear on Easter is one of the toughest tasks as everyone wants to look their best, especially ladies. This is the time when the weather is in transition and you can't be sure at times. It is true that Women can experiment a lot with their dressing and thus look different and glamorous at Easter. Whether it is still chilly or summer is finally knocking on your door, we have the best outfits for you to try. We have compiled 20 best ways in which women can opt and look the best this Easter!
How to Dress on Easter This Year
Here are a few tips to follow while dressing up for Easter:
Always opt for bright dresses with beautiful and bold patterns
It is time to flaunt all your stunning accessories for Easter Sunday
Always pay keen attention to your footwear for Easter depending on how you plan to spend the day
It is better to stick with flats or supportive heels
Using hats or floral headbands is ideal when going for stylish Easter Look
Always keep a light cover up or sweater with you in case the weather gets chilly
Do keep shades, wet wipes and sunscreen with you if you will spend most of the day outside.
↓20 – The Right Makeup For Easter
Along with beautiful dressing, Easter also calls for the right makeup to be done. Ladies can go for various looks be it nude look, bold lips and what not, but the most wearable and stylish look will be light smokey eyes with the right winged eyeliner and a soft lipstick to look radiant and fresh throughout the day. Finish off by adding a delicate touch of light pink blush on the cheeks. If you like bold spring colors, you can go with either vibrant two different eye shades that complement each other or a nice eye-catching shade of lipstick. The most popular lipstick shades for this year are orangish red, burgundy, and bright pink.

↓19 – Know The Right Accessories
Sometimes you may not want to wear a dress that is super extravagant but still want to look your best. For such situations, the best solution is to go for a pair of light skinny pants with some light printed top. To add glam to your outfit, wear a bold statement pearl necklace along with some colorful bangles. Adding on the right accessories can make you look super stylish in no time. Another great idea is to go for statement hats like baker street style hats to give you a modish look.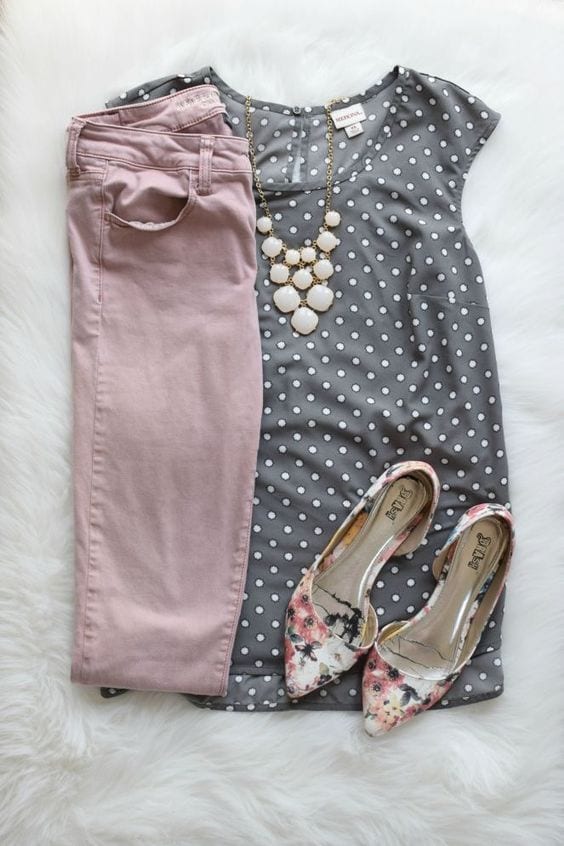 ↓18 – The Jumpsuit Lady
Another useful tip and dressing idea for women who don't get much time to shop or need something that is easy to wear is that they can go for jumpsuits. Wear a peach or some pastel tone chiffon jumpsuit to make you appear taller with heels. Go with a traditional cowboy style hat for an edgy look. Here are 16 Cute Jumpsuits Outfits With Ideas On How to Wear Jumpsuits Rightly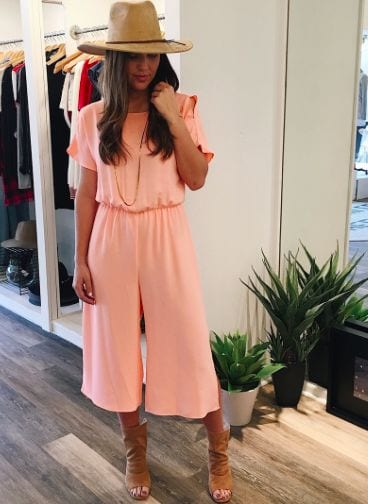 ↓17 – The Funky Fun Easter Look for Teenagers
Stripes are back in the game and we don't mind it one bit. Everyone needs to carry at least one dress in stripes because they are so flattering. You can wear a multi-colored striped mini dress with a waist length coat for a fun and sophisticated look.  Carry your hair in a top knot and wear either ankle boots or wedges. This look is fun for teenage or girls in their mid-20s. They can look stylish yet smart in this style of dressing.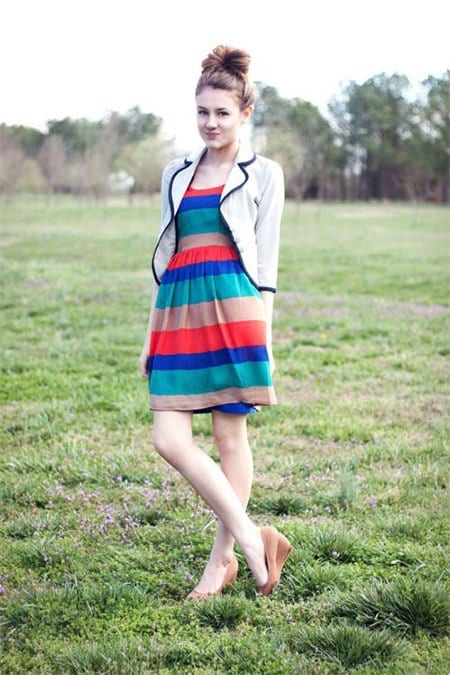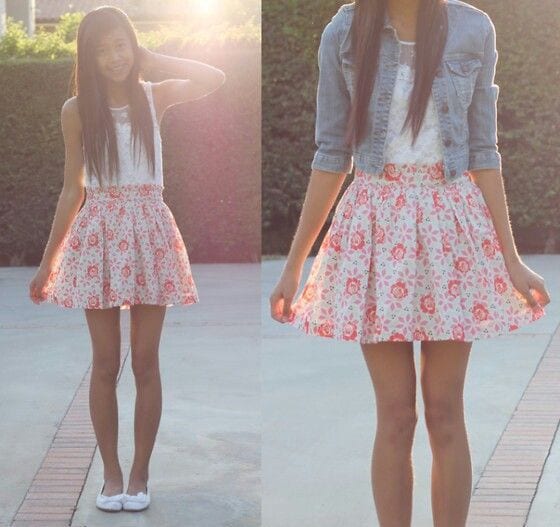 ↓16 – Be the Chic Lady in White Jeans
Women love looking all chic and pretty. A nice idea to do is wear a tea pink feminine top with off white skinny pants and to add more glamor wear heels of the same shade as your top. This will add a dramatic yet subtle look to your dress. To add on more you can wear a delicate necklace or the watch of your choice for some glam arm candy. Check out these 23 Chic Ways to Style White Jeans.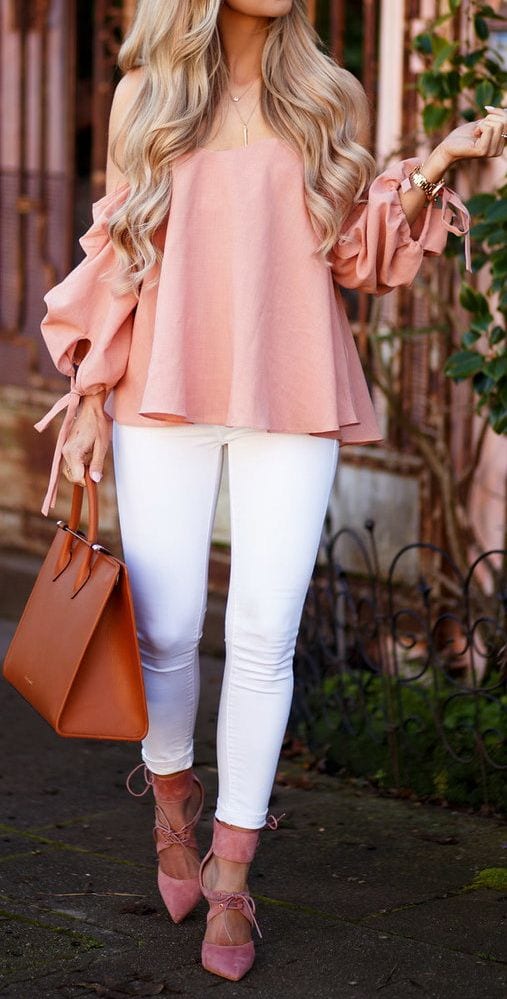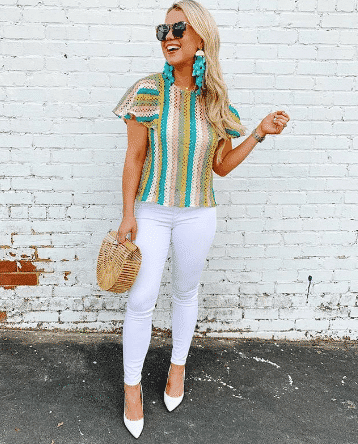 ↓15 – Simple Yet Beautiful
Who says women who wear plain or simple dresses can't look lovely this Easter? Wear your favorite black mini dress with your hair pulled in a low messy bun and wear your a pair of heels. You are ready to rock, as this look is simple yet very enchanting and can make you look fresh even after hours of celebrations. Sometimes, simple is all you need to stand out from the crowd.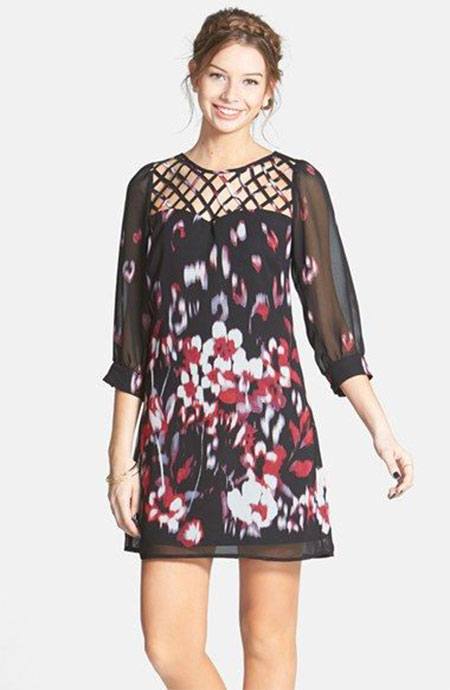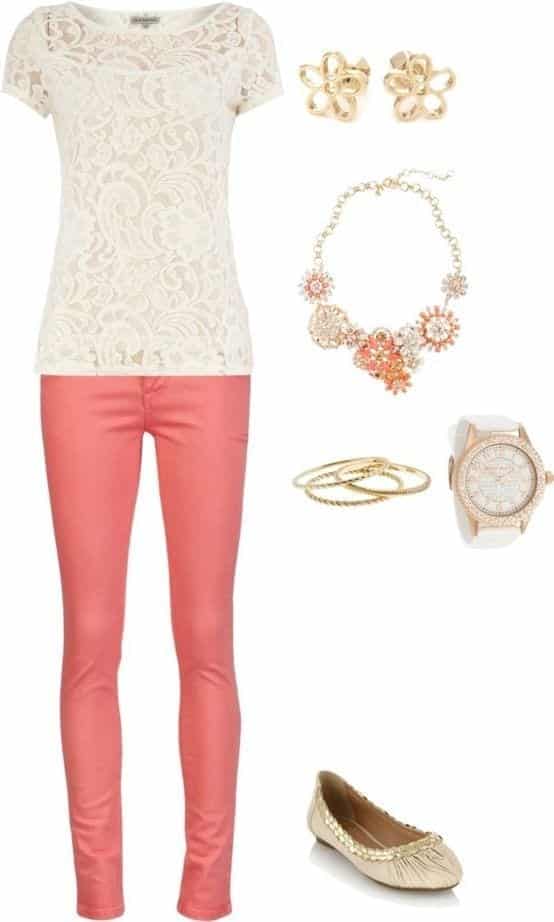 ↓14 – Shoes for Easter
A lot of women may still be confused as what is the right option of footwear for Easter. Well if you listen to us we would say a pair of neutral-toned stilettos is the right answer. Not only will these amazing minimalist heels are complementing to your dress but they will also make you look properly dressed for the event. Here are the Trending Heels Which Should be Part of Your Closet.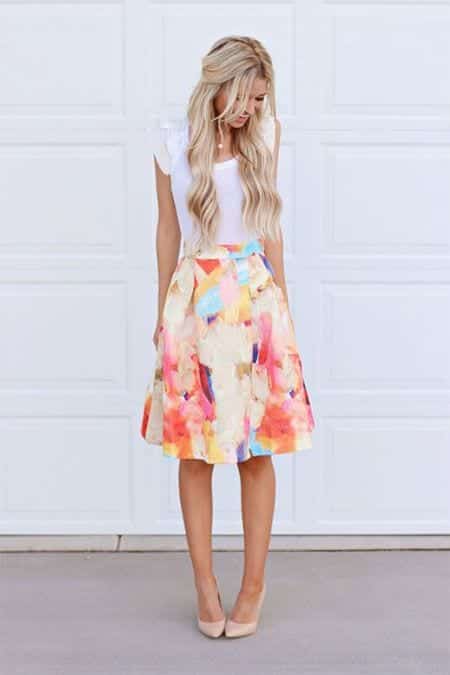 ↓13 – Celebrity Style
Selena Gomez is known for her wonderful sense of style. Well, you can wear your favorite white lace dress with a pair of glittery heels on Easter like Selena. This dress will instantly uplift your overall look and is easy to carry. In case you want to go with a modest style, pair up the mini dress with white denim or colorful slacks for a stunning look.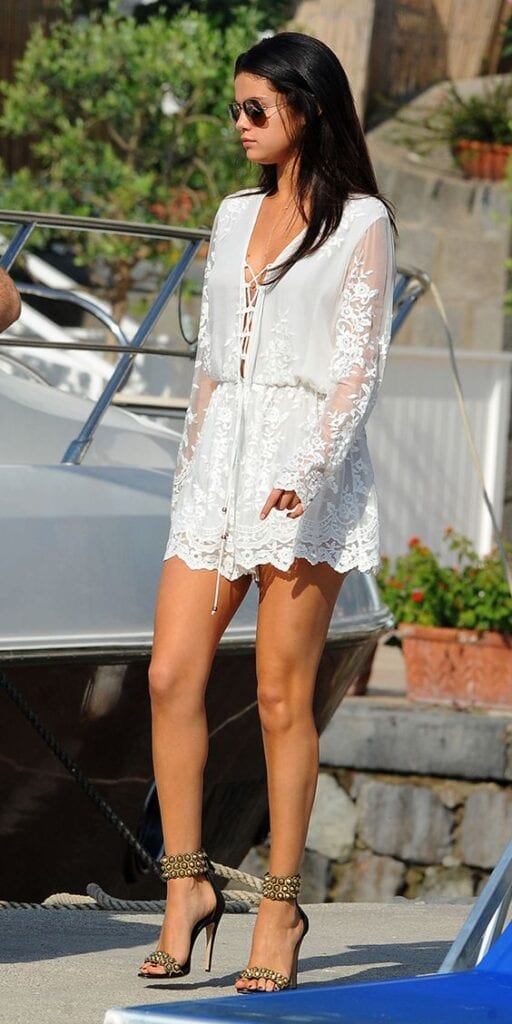 ↓12 – Play with Colors
Women who are not sure which one specific color to go for this Easter can play with multi colors. You can wear a long maxi dress which has abstract print and is multi-colored. This dress will be your instant mood lifter and will make you look all enthusiastic about the Easter meet and greet. Also, isn't Easter about lovely colors, so why not?
↓11 – The Combination of Pastels and Florals
We all agree to the fact universally that pastels and floral prints go well with each other and makes one look fresh. You can wear this same pattern on Easter too. The contrast of plain shirt and a printed skirt is a match made in heaven. You can wear a pastel-colored top with a floral skirt. To add glam wear a pearl necklace and that's it, you're ready to rock Easter. You should choose elegant styles of shoes with this outfit like square-toed heels or pointed stilettos. Check out these cute Spring Outfits With Floral Jackets.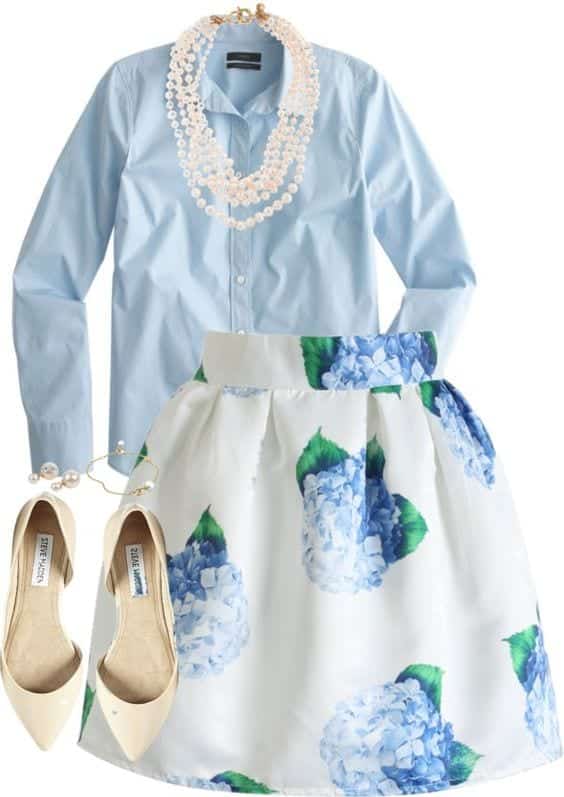 ↓10 – Latest Easter Fashion Ideas
Young girls are usually anticipating most of the important events and celebration days because it gives them an opportunity to flaunt their interesting fashion sense. You must wear dresses that make you appear playful as well as pretty. For Easter, we suggest that you try opting for a knee-length floral dress. To add to this, let your hair be loose in beach waves along with a matching clutch and nude pumps. This look is ideal and refreshing.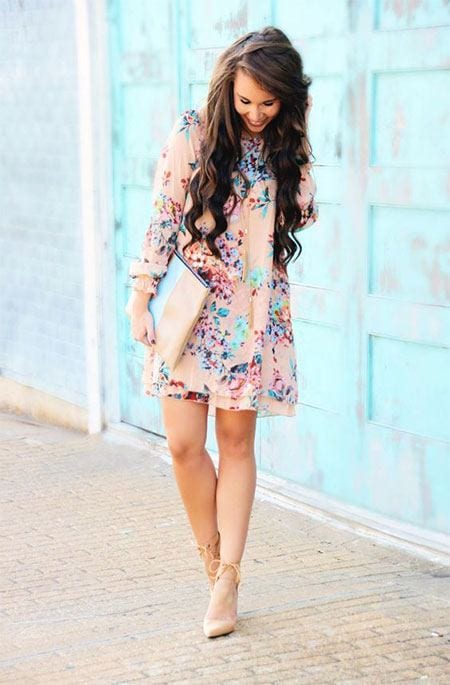 ↓9 – Hairstyle for This Easter
Don't you just love to make a statement with your hair especially if they are dyed or are long? We suggest that instead of making complicated hairstyles and messing up with buns or other hairstyles this Easter, go for a simple yet classy look. Go with beachy waves or loose curls, as these hairstyles not only go with all types of outfits but also give a fresh yet effortlessly chic look. You wouldn't need excessive time for these and you will get ready in a jiffy. Here are 2019 Cute Hairstyles for Teenage Girls! 70 Top Hair Styles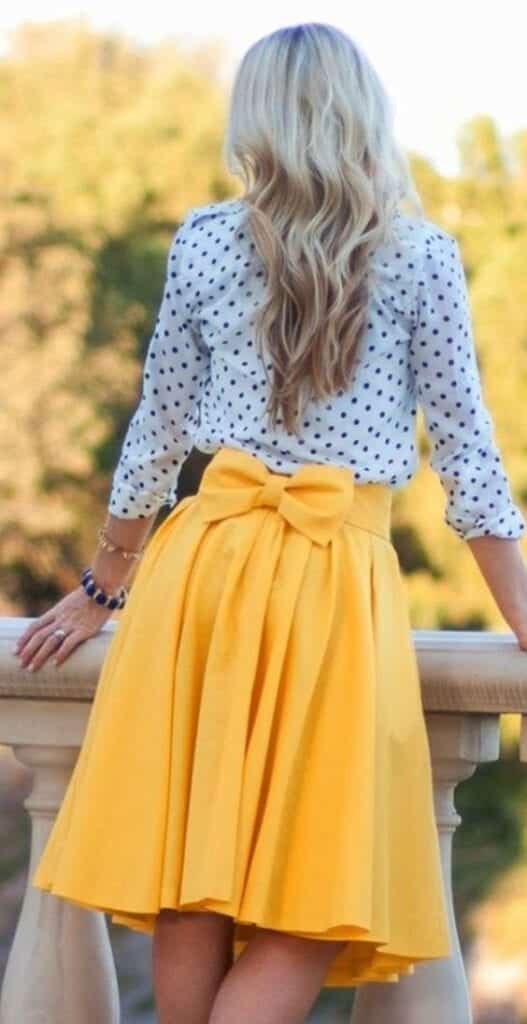 ↓8 – Go Smart
Jeans might be your solution to every occasion however, this time we ask you to digress. Instead of opting your skinny or distressed jeans, you ladies can also benefit from high waisted paper bag pants. High waisted paper bag pants combined with a plain tee and loose hair creates an awesome semi-formal look and can give a pleasant persona. You can go for this outfit at Easter lunch with friends or family.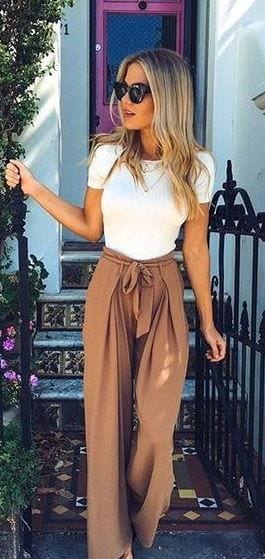 ↓7 – All Pastels
Another interesting yet chic way is to go with pastels completely. Wear a light pink chiffon skirt with a white lace top.  A complete pastel look may appear boring or hard for you to carry but in reality, it gives a subtle look and is simply stylish. You can carry a shimmery clutch or a statement necklace to look further on point. Don't miss out these 18 Cute Pastel Outfit Combinations and Ideas On How to Wear Pastel.
↓6 – Go Neon
For ladies who love to wear bold colors and want to look enthusiastic about the event can also wear bold neon colors. However, you must be careful about making the contrasts that complement each other without looking odd. Blue and pink is an ideal combination with a pair of beige color heels for Easter get together! Other great combinations to try are yellow and green, neon orange and blue, neon colors with black.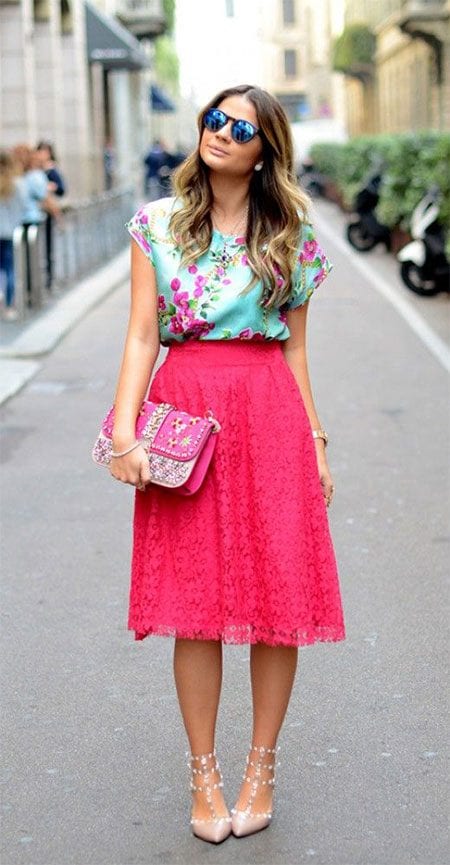 ↓5 – Outfit Ideas for Easter Night
If you are looking for the perfect dress to wear during the night time celebrations, we have a great idea for you. Sometimes the easiest way to look stunning and glam is to go in a complete girly fashion. Wear a pink off-shoulder top, which can be worn as a dress or with pants along with wedges and add some nice accessory to look chic and girly. Go with close footed heels like wedges and a nude handbag for carrying all your important stuff. Spray a light floral scent and nothing could spoil your Easter evening.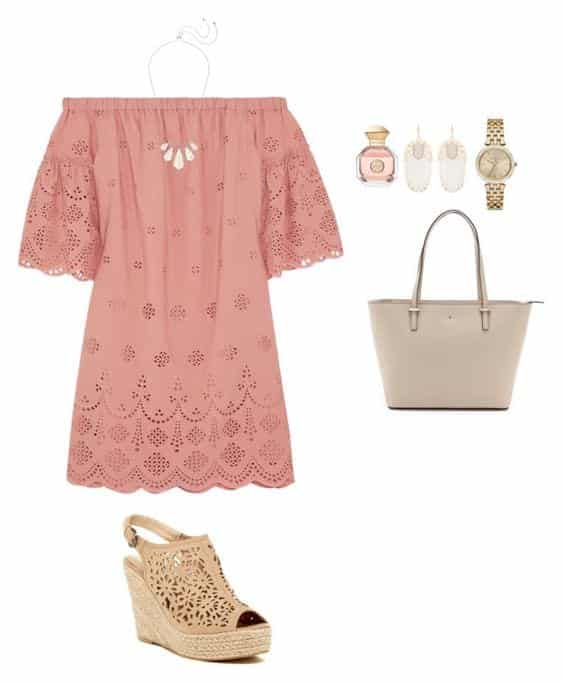 ↓4 – The Fairytale Look
If you want to look extravagant, the ideal hack is to get a lace or net skirt with a contrasting top. You can go for plain jersey tops or more intricate embroidered tops for an impeccable style. This is a simple outfit, yet gives a grand and stylish look. You can make this look more creative with DIY skirts. You can even fluff your skirt with cancan or add layers.  Go with a delicate statement necklace in a similar color scheme and there! you are all set to look like a queen.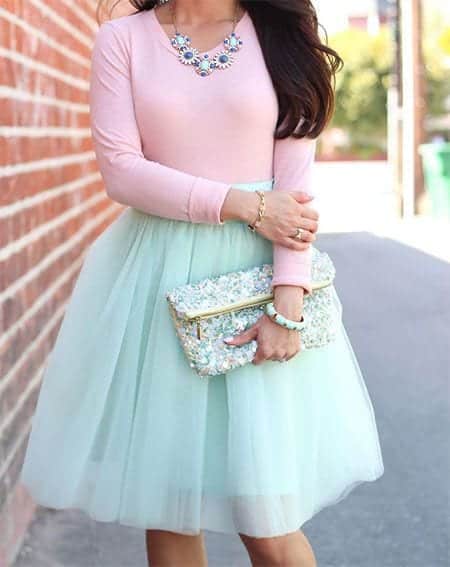 ↓3 – Cute Spring Outfits
We always need some cute spring outfit ideas in our wardrobe. The best thing to do is to have at least one colorful skirt with you for setting a strong base. This skirt can then be matched with various style of tops according to the weather you are experiencing. You can either go with full sleeve tops or carry a sweater in case there is still a chilly breeze surrounding your town. Pair this along with some cute printed leggings and feather stiletto for the charismatic look.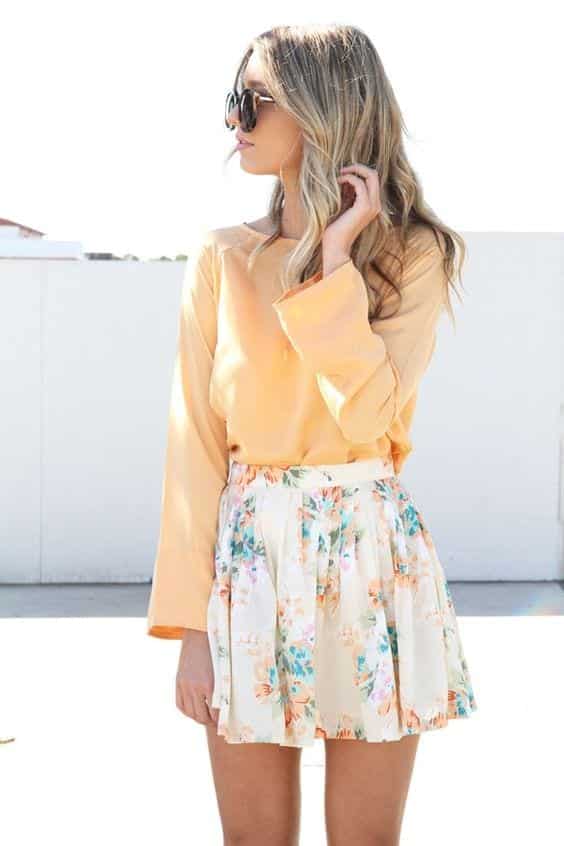 ↓2 – A Printed Easter Themed Dress
Another easy solution is a light and airy printed dress. Most of us like to stay outdoor for Easter. In case you have planned games and egg hunting with kids, you want a dress that will be fancy and yet comfortable for all the fun activities. Also, these kinds of dresses are best for family holidays because you can match it with your nieces or even your own daughters for a charming photo session. You can wear them with a chunky bracelet or a sophisticated watch and layered necklace for an elegant look. Stick to flats or pumps in case you need to run around a lot.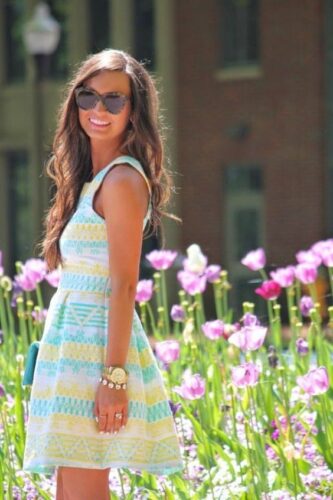 ↓1 – What to Wear on Easter Sunday Church
Lastly, if you want to look super flawless for the Sunday Church, then a long maxi dress is your best pick. This dress would look best for the Church without breaking any fashion or religious rules. You might be facing weather that is still on the chilly side and a maxi dress would be ideal. You can go with different patterns and see what excites you. It can be floral or with color blocking technique for an alluring look. In case you think a maxi dress is too typical, enhance your look with the right makeup and amazing accessories. Go with minimal heels to give you a slim and smart look.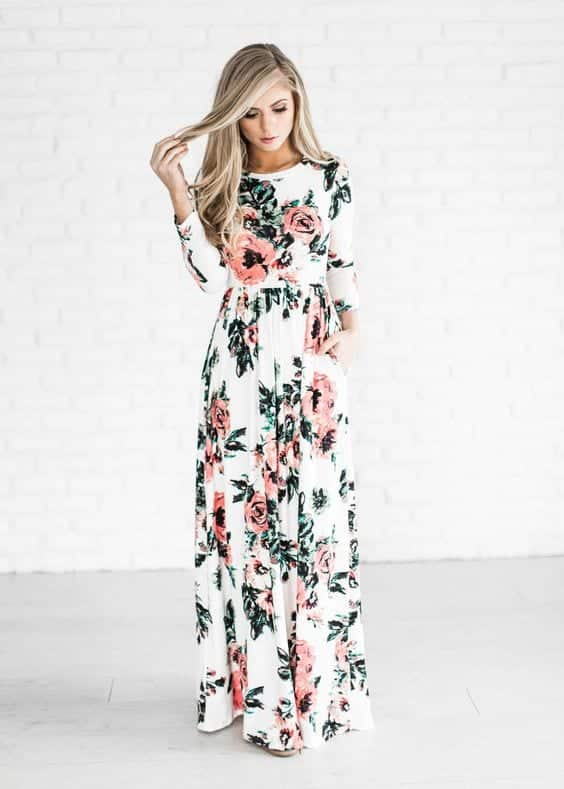 Read More: https://www.outfittrends.com/outfits-to-wear-this-easter/
Easter Outfit Ideas 2019 – 20 Ideas What to Wear This Easter
By: Zonaira Pervez